The Company
Xi'an Tianma International Travel Service (XTITS) is an international travel agency authorized by China National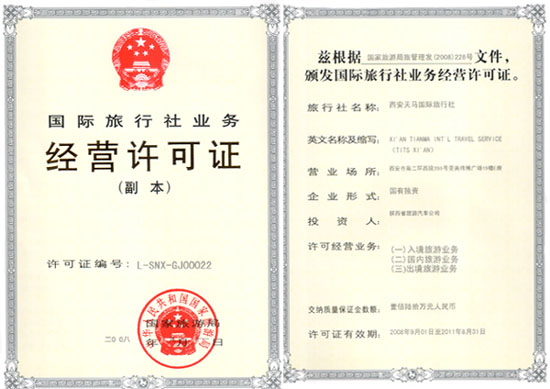 Tourism Administration (CNTA) in 1992. It is also one of the members of Shaanxi Tourism Corporation Group. The company offers not only China domestic tours and inbound tours from all over the world but also the outbound tours for Chinese citizens to the world; We also organize conventions and incentive tour as well.
With professional service and experienced team, XTITS has gained 'Top 100 China Travel Service 1995' by CNTA, 'the best contribution to the Silk Road Inbound Tourism Market 2006' by Jiuquan City Government of Gansu Province and Xinjiang Uygur Autonomous Region Government. 'The Legend Rewarding of Silk Road Tourism 2006' by Dunhuang City Government, Gansu Province. Since 1995, we have been regarding as 'The Best Travel Services in Shaanxi' by the Government of Shaanxi Province year by year.
The tour guides who are all well trained and have received high education are capable of conducting tours in English, Japanese, French, German, Spanish, Italian, Indonesian, Cantonese and Mandarin as well. Among them, two guides were named the 'Xi'an Tourism Ambassador' XTITS believes that a fine brand comes from our honest and credit. The company development bases on the service we provided. We keep the way as we always do to provide China travel service to the clients sincerely, patiently and closely.
The Website
Our website, http://www.xian-tours.cn is under the management of XTITS. With experienced team, we provide variety of best value tours and offer you the highlight tours, private small group tours, special tour and custom tailor tours. We can help you to discovery China and explore the beautiful landscapes and diversity culture. Our service motto is providing best service, great value tour, and unforgettable experience in China.
We keep trying, and we will do better.
The Awards: