If you're into museums, you should quite enjoy this one, which is located directly across the street from the Youyi Binguan.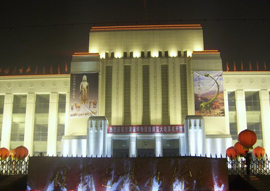 The Culture Relics of the Silk Road exhibition features Neolithic painted pottery taken from site 300km southe-east of here at Dadiwan. Dadiwan culture existed at least 7000year ago and is though by some archaeologists to predate the better know Yangshuo culture.
Exhibits from the Han Dynasty include in scribed wooden tablets used to relay messages along the Silk Road and outstanding 1.5m-high tang dynasty warrior made from glaze-colored earthenware. Also interesting is a 2nd century BC gilded silver plate depicting Bacchus, the Greek god of wind, from the eastern Roman Empire. It was unearthed in 1989 at Jingyuan, 120km north-east of Lanzhou, and is evidence of significant contact between the two ancient civilizations. The museum is open Tuesday to Saturday from 9amto 12pm and 2:30pm to 5pm, closed on Sunday and Monday.