Shanghai has numerous links to surrounding areas. These days you can easily travel to Shanghai from not only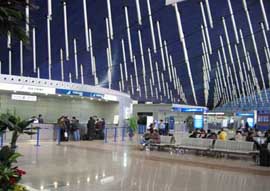 nearby cities like Suzhou, Nanjing, and Hangzhou, but also from distant cities such as Beijing, Xian, Guangzhou, and Hong Kong. Many cities in other countries also enjoy convenient direct transportation links with Shanghai. You can travel there by air, train, long-distance bus, or ship.
Shanghai is the only Chinese city that has two modern international airports, Pudong International Airport and Hongqiao International Airport that are equipped with very advanced facilities. Every day, nearly 1,000 flights depart from or arrive at the two airports, linking Shanghai with many domestic and international cities such as Beijing, Hong Kong, New York, Los Angeles, London, Paris, Tokyo and Singapore.
An international metropolis with the largest population in China, public transport within Shanghai city is generally considered both convenient and comfortable and the situation is somewhat better than in other major Chinese cities such as Beijing. Shanghai boasts the world's most extensive public transportation system handling the largest daily volume of passengers and so the city faces inevitable problems of overpopulation and traffic congestion. To relieve pressure on its public transport system, numerous new roads, and subway lines are being constructed and new bus routes added.
Shanghai has something no other city in China can claim - two international airports. Pudong International Airport handles 60% of flights including most flights from all over the world, while the remaining 40% use Hongqiao International Airport. As one of the main Chinese airline hubs, Shanghai has connections with nearly two hundred domestic cities and overseas cities such as Los Angeles, New York, San Francisco, Seattle, Fukuoka, Osaka, Tokyo, Bangkok, Brussels, Madrid, Paris, Singapore, London, Moscow, and Rome. Shanghai has regional links with Hong Kong and Macau and domestic flights link Shanghai with Beijing, Guangzhou, Shenzhen, Xian, Xiamen, Hangzhou, Chengdu, Chongqing, and Shenyang.
There is convenient transportation from both airports into the center of Shanghai.
Pudong International Airport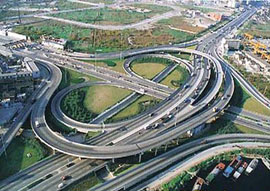 Pudong International Airport is located in the east of Shanghai about 30km from the city center, and about 40km away from Shanghai Hongqiao International Airport.
Phase I of Pudong International Airport was officially begun in October of 1997 and was completed in September 1999.
The terminal building Pudong International Airport includes a main building and a long terminal concourse, both 3-storey structures connected by two passageways. The buildings cover an area approximately 280,000m2 and contain thirteen luggage conveyor belts and twenty-eight boarding bridges. The restaurant facilities and other leasing service facilities cover 60,000 square meters.
Shanghai Pudong International Airport accommodates over 400 take-offs and landings per day, serving nearly 50 domestic and foreign airlines.
Airport Code: PVG
Website: www.shanghaiairport.com
Telephone: 86-021-64569090
Hongqiao International Airport
Hongqiao International Airport is located in the western suburbs of Shanghai, only 13 kilometers away from the city center. Its advanced infrastructure facilities and state-of-the-art navigation, communication, and security systems can accommodate every type of airplane in the world. The airport authority has transferred most international and regional flights from Hongqiao International Airport to Pudong International Airport, but Hongqiao continues to maintain standby capacity for landing of international flights, while accommodating all landings and take-offs of domestic flights.
The Hongqiao International Airport terminal covers an area of 82,000m2, with 15 waiting halls, 18 VIP lounges, and 15 luggage conveyor belts. The airport accommodates an average of over 300 take-offs and landings per day.
Airport Code: SHA
Website: http://www.shanghaiairport.com (airport map)
Telephone: +86 (21) 62683682
Railway Station
Shanghai Railway Station
Shanghai's largest and oldest, located in Zhabei district at the intersection of Metro lines 1, 3 and 4. Practically all trains used to terminate here, including trains to Hong Kong. But southern services are being shifted out to the new South Station.
Shanghai South Railway Station
A new, greatly expanded terminal opened in July 2006 and is set to take over all services towards the south. On Metro lines 1 and 3.
Shanghai West Railway Station
The smallest of the three, with limited service to Yantai, Zaozhuang, Hengyang, Ganzhou, and Chengdu. Not reachable by metro.
Train tickets are also most conveniently booked in advance at one of the many travel service agencies. If urgent, they can also be directly booked at the train stations and the Shanghai Railway Station even has an English-speaking service counter.
Trains to Beijing
There are a number of brand new sleeper trains running daily from Shanghai to Beijing, leaving at 19:00 in 10 minute intervals until 20:00 and arriving in Beijing between 7:00 - 8:00. The fare is about CNY 500 for a soft sleeper, but they are very clean and the four-person cabins are very comfortable. In the same new train, normal hard sleepers are available for around CNY 250. For these trains, food is served while traveling from Shanghai to Beijing, but on the same connection from Beijing to Shanghai, no food is yet being served, so prepare yourself with some instant noodles or snacks. For a regular normal sleeper in a standard train, which takes 18 hours from Shanghai to Beijing, expect to pay CNY 200-300 with no food served either.
The new fast (200+ km/hr) CRH trains go from Shanghai to Hangzhou in one direction and to Suzhou and Nanjing in the other. These are very comfortable and convenient. Look for the separate 'CRH' ticket counters.