Lanzhou, the capital of Gansu Province, is a regional communication and transportation hub since ancient times. Lanzhou is not a major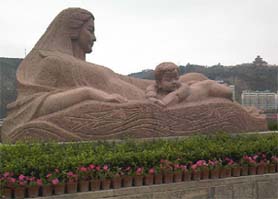 tourist spot, however, it is an important stopover in the ancient Silk Road.There hosts many cultural heritage sites, like the 5th century cave shrines and stone statues at Bingling Temple (also called Thousand Buddha Caves), and a 27-meter-high Buddha at the White Pagoda Hill.
Lanzhou is also a bustling city with a modern downtown area, with western boutiques and fast food outlets, as well as more traditional markets and temples. The Yellow River flows through the city and boat trips are available. Nevertheless, the rugged topography does give the city a certain unique charm with many friendly ethnic groups. Meanwhile, honeydew melons, peaches, and vegetables are also produced in the area.